With us, it's personal
Family Law is different from almost every other area of law in that the issues we deal with affect real, everyday lives. We believe that, although there is no such thing as an easy divorce, there are many ways to alleviate pain and suffering by taking a collaborative approach. We therefore focus on making sure our clients are aware of all the options open to them with litigation hopefully being a last resort.
In addition, we recognise that it's not just the legal issues that need dealing with, so we offer our clients additional emotional support through our consultant counsellor, based at our Stony Stratford office.
Focusing solely on family law means we have built considerable expertise throughout our team, all of whom practice exclusively in the family law arena and are members of Resolution, a national family law association which promotes constructive, non-confrontational solutions to family law matters.
To find out how we can help you, get in touch. Please call us on 01908 262680 or 01869 225580 or 01923 954000 or email enquiries@hawkinsfamilylaw.co.uk
Family Law Advice: Find out where you stand
Divorce or separation can be expensive – both emotionally and financially. Early advice and support can assist in determining the right approach and ultimately, a practical solution to the difficulties which you are facing.
Click below to make your completely confidential and secure enquiry: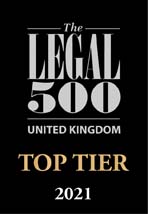 2021 Family:
Beds, Bucks, Herts and Middx – South East
Hawkins Family Law fields 'a very professional team that delivers a high-class service and has strength-in-depth from senior to junior level'. Managing director and team head Jo Hawkins provides 'clear and accurate advice and moral support through often testing times for her clients; she focuses on deriving the best long-term outcome for her client and other parties'. The practice has particular strength financial matters, including divorce and ToLATA proceedings. Other key figures include Loraine Davenport, who has strong collaborative law expertise and handles complex children cases and high-net-worth ancillary relief matters; Annabel Hayward, who focuses on complex financial provision and co-habitation matters; and Stacey St Clair.
For more information please click here.
Top Tier Law Firm 2021
2021 Family/Matrimonial:
Milton Keynes and surrounds
What the team is known for: 
Boutique family law firm that punches above its weight in terms of high-value and complex matrimonial finance instructions relating to business assets, pensions and substantial property portfolios, including assisting with the handling of assets abroad. Also represents clients in the negotiation of wealth protection agreements and private law childcare arrangements. Fields a team trained in collaborative law and alternative dispute resolution.
Strengths:
An impressed client says: "The team's personal service and individual care is a great asset," adding that the lawyers are "always available to assist and understand the occasional need for immediate advice and guidance, providing a very reassuring service."
For more information please click here.